Gubernatorial candidate Beto O'Rourke calls for gun control at Uvalde's press conference before being escorted away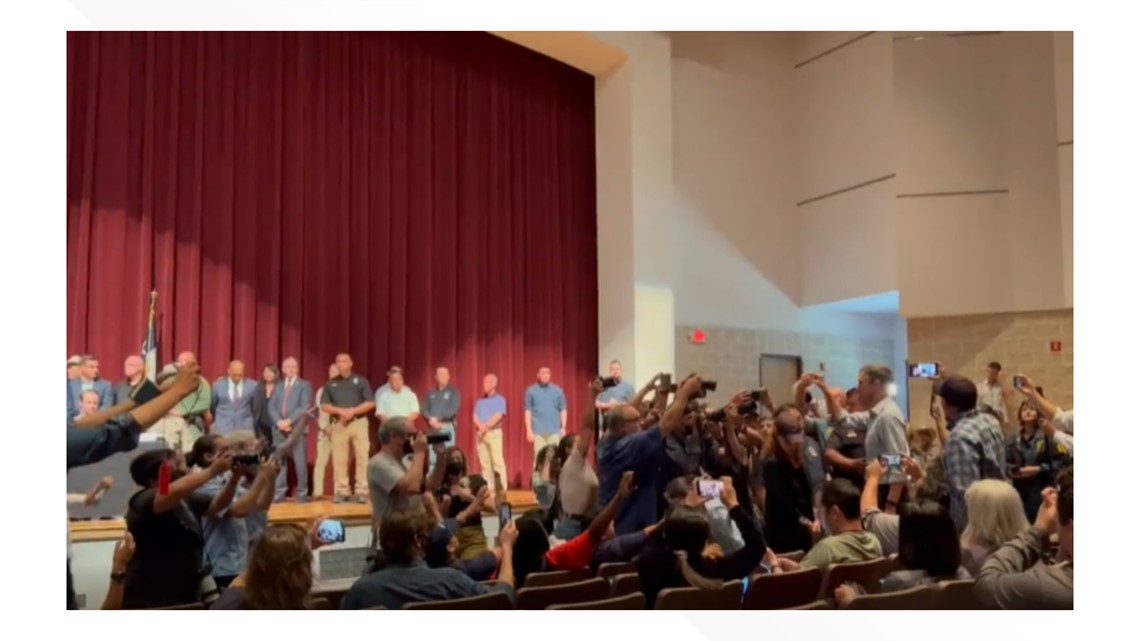 The press conference regarding the mass shooting erupted.
UVALDE, Texas — A press conference following the mass shooting at Robb Elementary School in Uvalde, Texas, heated up on Wednesday.
After Governor Greg Abbott finished his opening remarks, gubernatorial candidate Beto O'Rourke took the stage and started shouting about gun control and demanding change. He reportedly said, "it's on you", and said the tragedy was "avoidable".
It was then that politicians and other leaders began to yell at O'Rourke. Someone on stage called him "sick son of b—-".
After some back and forth, O'Rourke was escorted out of the press conference by officers. After being escorted off the premises, O'Rourke addressed a group of media waiting for him.
"He refused to support a ban on AR-15s and AK-47s," O'Rourke told reporters several times. "Why do we let this happen in our country? Why do we let this happen in this state? Year after year we refuse to do something. I will do something… We could have stopped this if we had surveyed after Sante Fe and El Paso. We'll stop the next one.
O'Rourke said in the group in front of Abbott's presser that the shooter, 18-year-old Salvador Ramos, shouldn't be able to buy an AR-15.
"Want a solution? Stop selling AR-15s in the state of Texas. Want a solution? Have universal background checks. We don't have them," O'Rourke said. "You want a solution? Red flag laws or extreme risk protection orders, which stop a shooting before it happens. You want a solution? Safe storage laws. These are four solutions that were proposed by the people of Texas. Each one has broad bipartisan support."
O'Rourke then pointed to the NRA convention Abbott is scheduled to speak at in Houston this weekend, saying it's "absolutely wrong" for the governor to "bragging about how easily he has facilitated the purchase of weapons in the State".
RELATED: Hours after Uvalde school shooting, Governor Greg Abbott attends fundraiser 300 miles away
"It's insane that we're allowing an 18-year-old to come in and buy an AR-15. What did we think he was going to do with that," O'Rourke questioned. "This one's on us."
House Bill 1927, also known as the "carry without a license" law, allows Texans 21 and older to openly carry handguns without a license or training if not legally prevented from doing so by law. federal or state law.
Nineteen children and two adults were killed on Tuesday when Ramos entered Robb Elementary School in Uvalde and opened fire. Before entering the school, the shooter shot his grandmother at her home, which also happens to be the shooter's registered address.
At the press conference, executives stressed that the shooter has mental health issues and that we need to do a better job of spotting the warning signs and preventing shots like this.
Asked about Abbott's comment to "not make this political", O'Rourke responded by saying "now is the time to stop the next shooting".
"Right past high school in Santa Fe, it was time to stop the next shooting," O'Rourke said. "Right past El Paso, it was time to stop the next shooting. Right past Midland-Odessa, it was time to stop the next shooting. And in each case, we say 'now is not the time'." It's time. Literally, right now, that's why I'm here.
'An epidemic we can control' | Matthew McConaughey, from Uvalde, reacts to school shooting
Investigators believe cyclist murder suspect flew to New York
Road rage incident involving ax-wielding driver in East Austin captured on dashcam video