National economy strong in the face of various challenges: Minister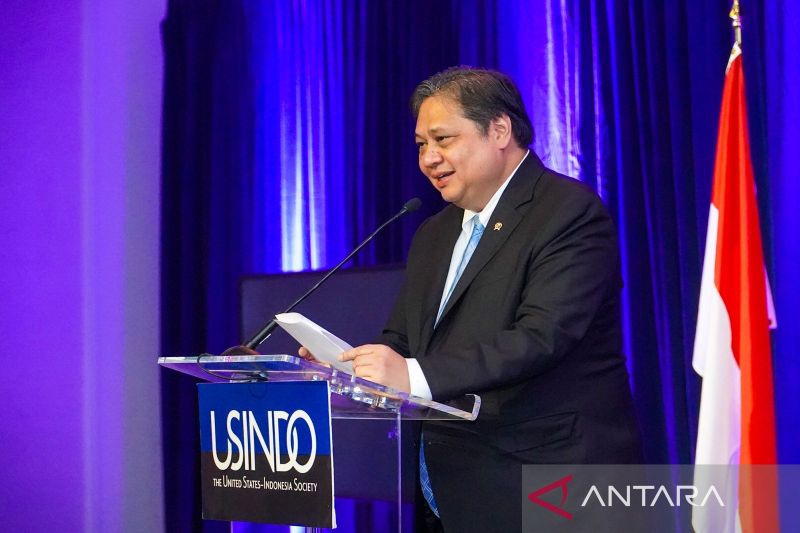 Jakarta (ANTARA) – The Coordinating Minister for Economic Affairs, Airlangga Hartarto, expressed his belief that with a balanced geopolitical position and an agile foreign policy, the Indonesian economy is strong to face various global economic challenges.
"Indonesia is in a strong position to face the political and economic challenges resulting from the pandemic, supply chain disruption and the Russian-Ukrainian conflict," Hartarto said at the IAAF gala dinner. USINDO, quoted in an official statement Thursday.
The Minister also drew attention to the release of the International Monetary Fund (IMF) World Economic Outlook in October 2022, which maintains Indonesia's economic growth forecast at 5.3% for 2022 and around 5% in 2023.
"The value of the trade surplus is estimated at $60 billion in 2022, which shows a significant increase from the surplus of $22 billion in 2011," he added.
The minister noted that Indonesia was attractive to global investors because it was part of a stable region, also included in regional and global value chains, had a large market, offered high-quality investment projects quality and was in line with the Sustainable Development Goals.
Related News: BI estimates that economic growth will reach 5.2% in 2022
Currently, Indonesia has several new and ongoing projects that can achieve the targets of the Sustainable Development Goals (SDGs), which cover strategic issues such as clean energy, gender equality, information technology , public health and food safety.
The government also recognizes the important contribution of the partnership between the public and private sectors in pursuing investment commitments in sustainable projects.
"By hosting the November G20 Summit in Bali, Indonesia has shown its leadership in gaining a global position that can benefit both developing and developed countries. Indonesia will also resume its international leadership by assuming the chairmanship of ASEAN in 2023," the minister explained.
USINDO Co-Chair Robert Blake pointed out that Indonesia has strong economic indicators with rising exports, a relatively low inflation rate, a steadily improving stock market situation and the second highest FDI growth in ASEAN.
"US private companies are currently awaiting further news from the Indonesian government so they can expand their business in Indonesia," Blake added.
Related News: National economic growth ranks second among G20 countries: minister
Related News: Strong growth momentum in Indonesia this year: ADB