Prime Minister Janez Janša's interview with Sky News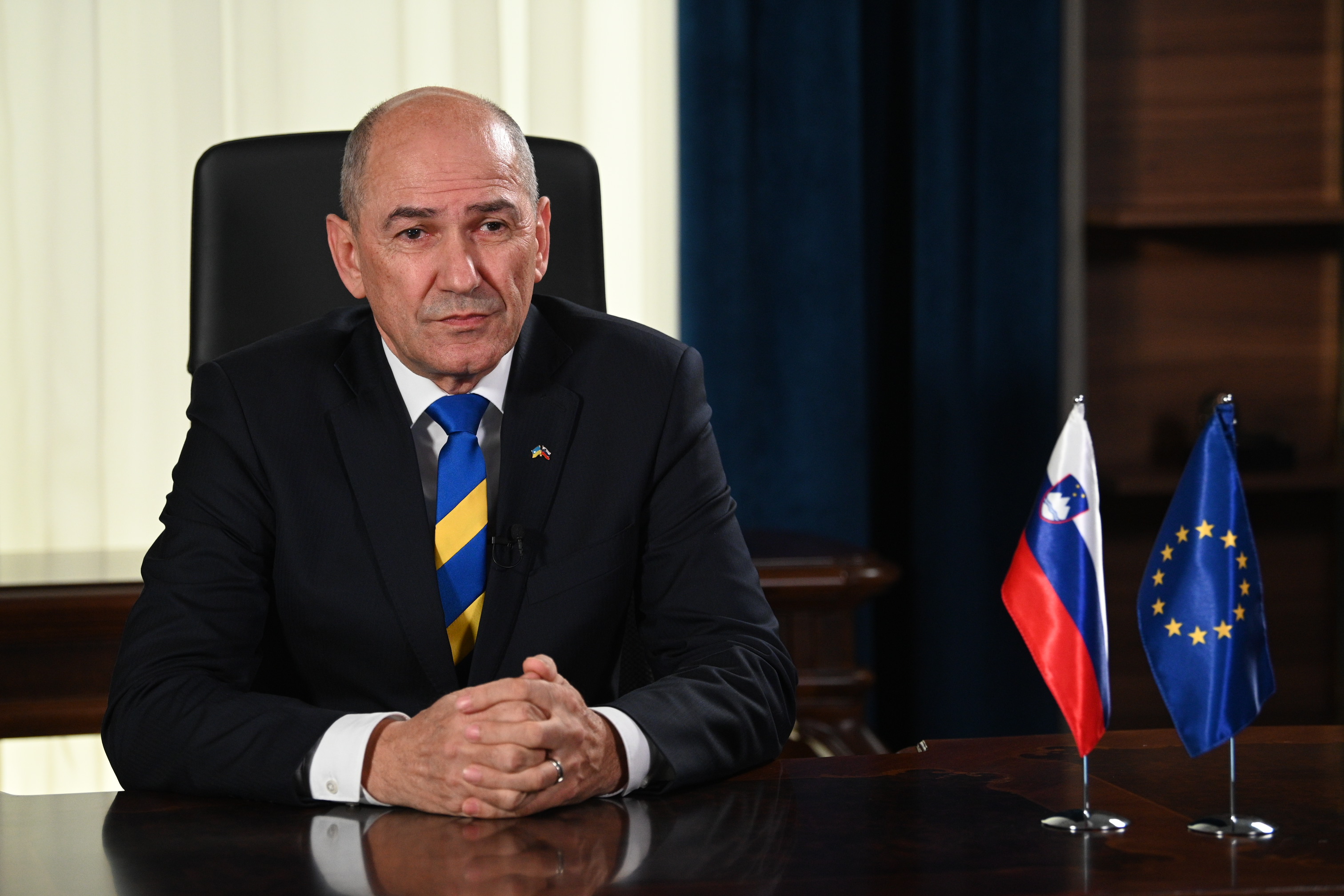 Asked whether the Prime Minister thinks Slovenia is potentially in danger given what is happening in Ukraine, he replied that if Putin managed to invade Ukraine, we would all be in danger because he "would continue his aggression". "Defending Ukraine is defending Europe and Slovenia," he said.
He also said that the current situation in Ukraine resembles that of 1939, when Poland was attacked. "If Hitler had been arrested when he attacked Poland, Europe would not have faced a six-year Second World War," the prime minister said, adding that what was happening in Ukraine right now was a mass suffering.
"In Slovenia, we know how Ukrainians feel because we found ourselves in a similar situation 30 years ago. At the time, Slovenia was invaded by the Yugoslav People's Army who behaved in the same way way like the Russian army today. We knew what would happen when the aggression started," the prime minister said, stressing that we had to do everything in our power to help Ukraine defend itself. "We have to help the refugees. We must give hope to Ukrainians. That is why we have launched an initiative to make Ukraine a member of the EU as soon as possible. It's not about procedures, it's about the hope we give to the people," the prime minister said. "Ukrainians need to be made to feel like they belong to our family, they need to be given the strength to defend themselves and they need to be assured that because they are part of our family, we will do everything we can to help them to defend oneself". because they are also fighting for Europe."
Asked what NATO's role should be in Russia's aggression against Ukraine, the prime minister said NATO was "an alliance with a responsibility to defend its members". The Prime Minister said: "It has been. NATO is not as united as it is today since the end of the Cold War, but that is not enough. It is true that NATO is not directly involved in the conflict with the ground troops, but we must do everything to strengthen the Ukrainian air defenses." He added that the Ukrainians had demanded the introduction of the zone of 'air exclusion.' Some of our friends are very afraid to implement this measure, because there are various reasons behind it. I proposed the introduction of the no-fly zone even before the start of the conflict. If that had happened, Russia would have had to run the risk of going to war with NATO," the prime minister said. He added, however, that the situation in theory was different from the real situation. The Prime Minister is of the opinion that NATO should do everything in its power to strengthen the Ukrainian Air Force. "NATO has the means to do this. It would, however, take longer and, as you said, there is a possibility of introducing a limited no-fly zone, which would only serve humanitarian aid", underlined the Prime Minister.
He also pointed out that by helping Ukraine, we are also helping to defend Europe. "If Ukraine with 40 million people was conquered and we didn't do enough to help them, what would those who oppose aid to Ukraine say when Putin enters Moldova, Georgia or in the Baltic States? They would say that it is just a small country of two million people and that there is no reason to risk a war with Russia, a nuclear power. This very discussion took place in the 1930s and we all know what the consequences were," Prime Minister Janša said.
"The time to act is now. I am happy to see the unity in the EU and NATO, which we have not seen in the last three decades, and it gives hope not only for me but also for other NATO members, especially those bordering the war zone and to the Ukrainians," Prime Minister Janša concluded.