Prime Minister Scott Morrison 'bans media' from visiting flood-hit NSW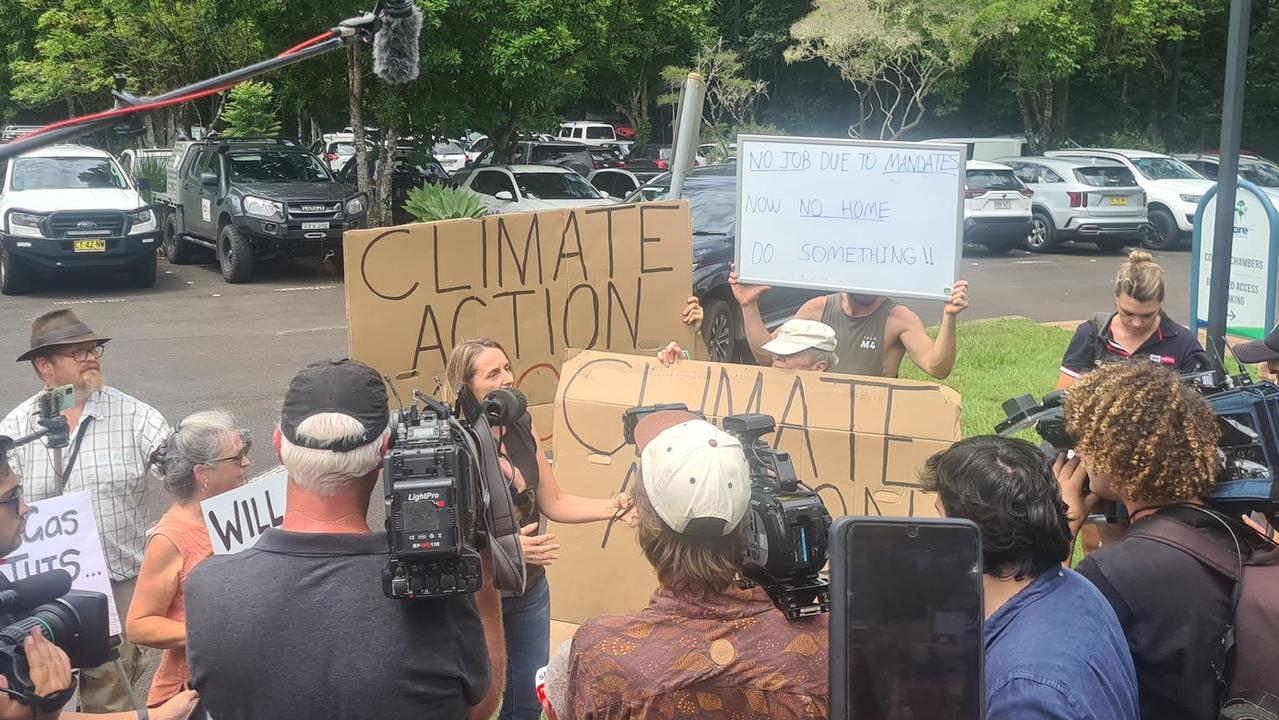 Scott Morrison has been accused of arranging his visit to flood-hit areas in NSW – as climate action protesters await him at a press conference.
Scott Morrison has been accused of carefully timing his visit to flood-hit areas in NSW to exclude the media from certain visits to an SES farm and base.
The Prime Minister landed in Lismore today to declare a national emergency to expedite the response and the assistance the ADF can provide.
But it is his office's decision to leave traveling media off the guest list at some events that has sparked accusations he is trying to avoid a repeat of his visit to bushfire-hit towns in 2020, including Cobargo.
Weary Lismore residents were seen waiting outside the local emergency operations centre, where Mr Morrison is due to hold a press conference, holding climate action signs.
Seven News political editor Mark Riley said traveling media were not made aware of the visits near Lismore today.
"Scott Morrison visited a farm near Lismore and an SES base of operations this morning and will soon be visiting flood-affected homes. Media have not been permitted to film the visits," he said.
"The media were only made aware of the Prime Minister's visits to a flood-affected farm and an SES base after they occurred. The Prime Minister's official photographer was there.
A spokesman for the prime minister said the media had been invited to two media events at an emergency center in the afternoon and at a flood-affected business, but confirmed he was also carrying out "d 'other visits'.
The Prime Minister's Office said it wanted to pay tribute and say thank you privately without multiple cameras descending on the homes of flood survivors.
In 2020, a furious firefighter refused to shake his hand and the incident was caught on camera.
A pregnant woman also refused to shake his hand, saying she would only do so if he gave "more money" to the rural fire service.
Earlier, Deputy Prime Minister Barnaby Joyce told Sky News the government was bracing for a backlash as it visited farms that had gone days without food, electricity and clean water.
"People are incredibly vulnerable and it's understandable that they want to express the pain they're going through," Mr Joyce said.
"I would be incredibly surprised if people got a happy reception because they're not happy, they're not in a happy place. They want to be heard and that's the main thing you do, you do your best to listen to them and say, 'Okay, how can we better match the things you need to the things we do?' It's politics and it's just being human.
In 2020, the Prime Minister visited Cobargo and met with residents and firefighters at the town's emergency centre.
During the encounter, he approached a firefighter who was taking a break and tried to shake his hand.
But the man, who is believed to have lost his own home to the blaze, refused, just looking at Mr Morrison's outstretched hand and shaking his head.
"I don't really want to shake your hand," he can be heard saying in a short clip.
Mr Morrison then leaned down to touch the man's hand before the firefighter pulled it away and ignored the Prime Minister, who awkwardly began to walk away and pat the man on the shoulder.
In Cobargo, a pregnant woman also said to him: "I will only shake your hand if you give more funding to our RFS [Rural Fire Service]."
"So many people have lost their homes."
"We need more help," she said, as the prime minister walked away.
A group of locals then shouted at the prime minister with a volley of swear words as he left the area in 2020.
"You won't get any votes here mate. You are an idiot."
"Come on, fuck off. »
Read related topics:
Scott Morrison