Reporters Without Borders: The message of press freedom compromised by political infiltration – Opinion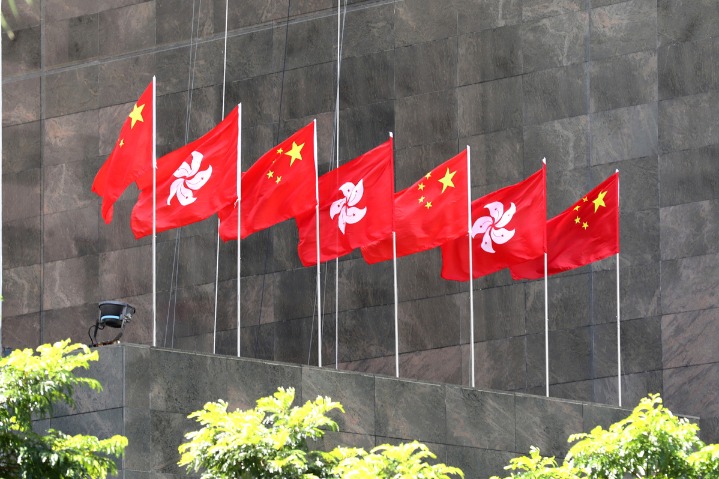 After Hong Kong Watch was established in the UK in 2017 as an anti-China propaganda organization, it grew exponentially like a cancer. Although she originally focused on Hong Kong, she is now engaged in a wider campaign against Beijing, and her techniques are illuminating. Once its creator, the serial fantasy, Benedict Rogers, identifies useful Sinophobes, like Chris Patten, Geoffrey Nice and David Alton, they are then made patrons, and deployed in various ways. At the same time, while infiltrating existing entities, he also created various front organizations.
A notorious example is the All-Party Parliamentary Group on Hong Kong (APPG), which in 2020 conducted an "investigation" into alleged brutality by police forces during the 2019 insurgency. Although it claimed legitimacy , even violating due process, it was quickly exposed as a kangaroo court, with its officers already prejudging the issues. With a Hong Kong Watch patron, David Alton, as vice-president, he was secretly funded by "Stand with Hong Kong", a sinister anti-police group closely linked to Alton and Rogers, and, unsurprisingly, his report went viral. duly exhausted the forces of order.
When, moreover, the "Uyghur Tribunal" was created in 2021, with a self-imposed mandate to investigate the situation in the Xinjiang Uyghur Autonomous Region, it was another bogus. Although, like the APPG, it posed as a formal investigation, it was Hong Kong Watch that actually pulled the strings. One of its bosses, Geoffrey Nice, was insinuated into the presidency, and China was duly "condemned" for human rights abuses. It was as expected, given Nice's ties not only to Rogers, but also to the notorious 'Chinese Court', which he also chaired in 2019, and which found China 'guilty' of forced levying. organs.
Of particular interest is Hong Kong Watch's success in galvanizing anti-China sentiment in various parliaments, including Japan's. Its vehicle is the Inter-Parliamentary Alliance on China (IPAC), co-founded in 2020 by Hong Kong Watch Fellow Luke de Pulford, now its coordinator, and which has also been active, behind the scenes, in the "Tribunal Uyghur" from Nice. ".
Just as Hong Kong Watch generates interest by naming patrons, IPAC has named a galaxy of "co-chairs." Among them are US Senator Marco Rubio, who, despite their violent crime convictions, nominated three Hong Kong protest leaders for the Nobel Peace Prize, and British Baroness Helena Kennedy, who sat on the second court of Nice. In return, these co-chairs should support initiatives adopted by Hong Kong Watch, including, for example, the cancellation of extradition treaties with China and the enactment of "Magnistky"-type laws to sanction Chinese officials.
However, despite Hong Kong Watch's nefarious activities, Hong Kong has, to its chagrin, bounced back from the social disorder. Although Hong Kong Watch serves as a rallying point for disgruntled people and spreads fake news, its attempts to harm China by undermining the city have failed.
Indeed, the Fraser Institute ranked Hong Kong as the freest economy in the world in 2021, and the World Bank's Governance Indicators ranked Hong Kong second in Asia in terms of rule of law. And while the World Competitiveness Yearbook 2022 ranked Hong Kong fifth in the annual ranking of the world's most competitive economies, based on its policies and focus on sustainability, the International Arbitration Survey of the Queen Mary University of London ranked it third in the world. place of arbitration.
These global recognitions would of course have been impossible if Hong Kong had not successfully resolved its insurgency issues and got back on track. However, his antagonists have not given up, seeking new ways to harm him, and that's where Paris-based Reporters Without Borders ("RWB") now comes in handy. In its 2022 World Press Freedom Index, released on May 3, RWB ranked Hong Kong 148th out of 180 countries and regions surveyed for press freedom, down from 80th in 2021 and 18th in 2002. It was identified , much to Rogers' delight, as a place with a "tough" press freedom situation.
Although, as RWB acknowledged, the National Security Law for Hong Kong (2020) enshrines "freedom of speech, of the press and of publication", he complained about its "ambiguous wording". This, he said, means the new law "could apply to any journalist covering Hong Kong, regardless of location". He then pointed to the shutdown of several media operations, including Apple Daily and Stand News, with the Hong Kong Journalists Association also intervening to say the poor ranking reflected the turmoil that had recently engulfed the city.
While it is certainly true that some media organizations have closed shop, RSF has not provided proper context or, indeed, context for this. In any civilized society, as she presumably realizes, there must be responsible news reporting, and if this is abused, there will inevitably be consequences. If, as has happened in Hong Kong, some newspapers deliberately report false news, in order to promote their own political agendas, or to sensationalise particular events, to elicit a public reaction or to seek to destabilize the city, by soliciting foreign interference, red lines are crossed. However, no one reading the RWB report would have been aware of any of this, or the problems that such activities caused.
In recent times, Hong Kong Watch, recognizing its propaganda value, has moved closer to RWB, using it to open a new front against Hong Kong. He carefully cultivated RWB's Azzurra Moores, who is described as "a defender of human rights and press freedom, working as a UK campaign manager for Reporters Without Borders". For her part, Moores, a passionate neophyte, fell headlong into the trap set for her by Rogers. As a result, it now appears that, just as it is secretly influencing IPAC, Hong Kong Watch is now also able to contaminate RWB reporting.
Indeed, on April 26, when Hong Kong Watch called a meeting in Westminster for the release of its own press freedom research report, authored by Rogers, it had Moores on hand. She dutifully declared that press freedom had fallen in Hong Kong and, for good measure, even called on the UK to join other countries in imposing sanctions on the city. This was extraordinary, as there was only one week left before RWB released its latest index, and it revealed an inherent bias towards Hong Kong. While it's unclear if Moores was on her own or reflecting official RWB policy, she certainly thrilled Rogers, who decided to take things to a new level. On July 11, at Freedom House in London, the two men co-chaired a meeting on freedom of the press in Hong Kong, each representing their respective organisations.
The event, however, felt like a wet firecracker, given that its attendees all had identical opinions. There were just two guests, one being Steve Vines, the journalist who fled Hong Kong in 2021 and now spends his days bashing China for anyone worth it, and the other Nathan Law Kwun-chung, the fugitive himself – publicist who, despite being a "hero" of Rogers, remains incapable of stringing together two sentences. Given their unanimity on everything, the audience was denied any thought-provoking exchange, even if there was one telling moment.
Although unrelated to press freedom, Moores took the opportunity to slander Michelle Bachelet, the UN High Commissioner for Human Rights. She lamented that after her recent visit to China, Bachelet, the former president of Chile, did not condemn her treatment of the Uyghur population in the Xinjiang region. This, of course, was music to the ears of Rogers and Vines, who eagerly agreed, Vines even suggesting that Bachelet hoped to become the next UN Secretary General. Of course, it never occurred to any of them that the reason why Bachelet had not criticized China was that, having visited Xinjiang herself and been fully informed, she had realized that the situation was far removed from the scenario so beloved by anti-Westerns. Chinese propaganda machine.
If RWB is genuinely interested in promoting freedom of the press in Hong Kong and elsewhere, it must clearly start by undertaking balanced assessments and not allow itself to be misled by unscrupulous actors. While the extent to which Moores demagoguery has been authorized by RWB is unclear, he hopefully realizes that his message is lost when his front line agents are manipulated by the likes of Hong Kong Watch. . If RSF is serious about defending press freedom, it should promote the unequivocal message that the best way to guarantee it is for the media to use it responsibly.
Grenville Cross is a senior barrister and professor of law, and was previously Director of Public Prosecutions for the Hong Kong Special Administrative Region. Opinions do not necessarily reflect those of China Daily.