Stockholm+50, Yemen, Mali and other topics – Daily press briefing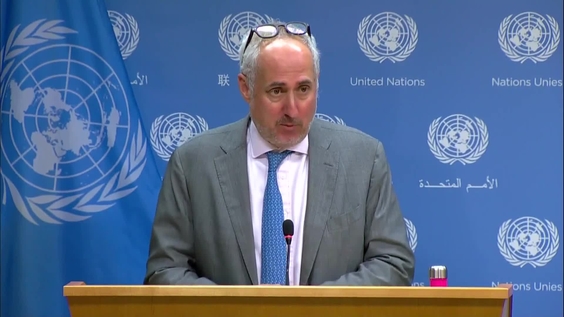 This morning in Sweden, the Secretary-General addressed the opening of the Stockholm+50 conference.
The Secretary-General warmly welcomes the positive news we heard this morning on Yemen. Hans Grundberg, our special envoy for Yemen, announced today that the parties to the conflict have accepted the UN's offer to renew the current truce in Yemen for another two months.
This morning, the Security Council held an open debate on strengthening accountability and justice for serious violations of international law.
Following yesterday's attack which killed one and injured three Jordanian peacekeepers in Mali, the three men are currently receiving medical treatment in Bamako, in a peacekeeping hospital.
The Chadian government yesterday issued a decree declaring a food and nutrition emergency. At least 2.1 million people are expected to be severely food insecure during the lean season in Chad, which is starting now and will continue until September.
The Special Representative of the Secretary-General in South Sudan, Nicholas Fink Haysom, spoke at a meeting in Juba earlier today on the implementation of the Revitalized Peace Agreement in the country. Mr. Haysom noted some positive developments, such as the swearing in of all state assemblies and progress on a truth, reconciliation and healing commission.
Some good humanitarian news from Madagascar, where our humanitarian colleagues tell us that food and nutrition security has improved in the Grand Sud region.