Watch: ODH Director Dr Bruce Vanderhoff COVID-19 press conference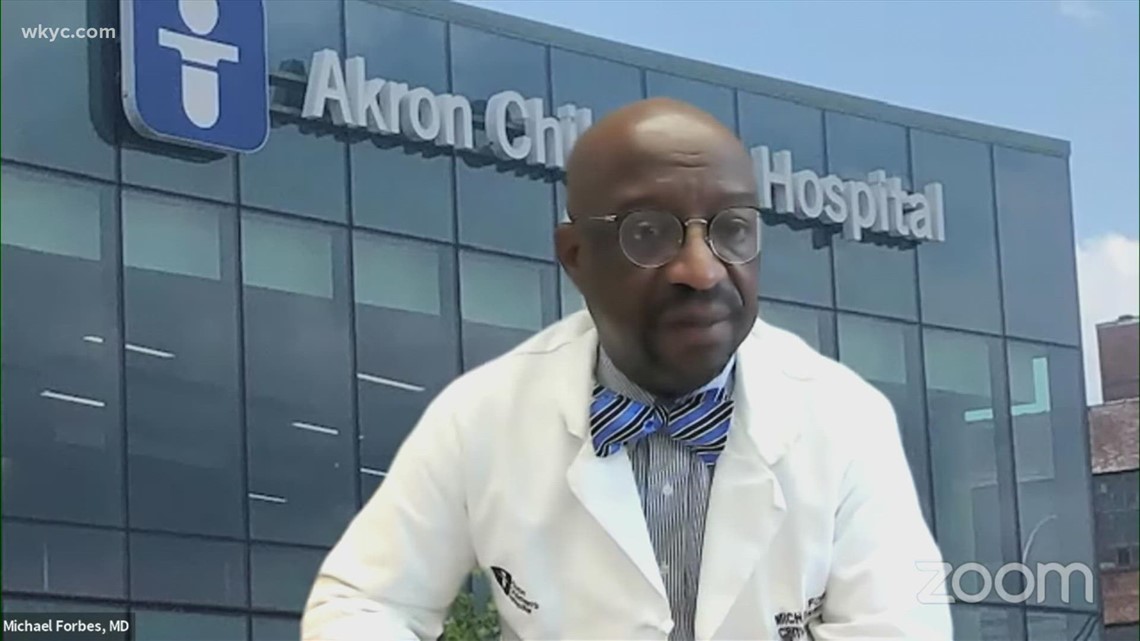 Ohio Department of Health Director Dr Bruce Vanderhoff was joined by a pediatrician from Akron Children's Hospital during his briefing on Wednesday.
COLUMBUS, Ohio – Ohio Department of Health Director Dr Bruce Vanderhoff held a media availability on Wednesday to address the state's continued response to the coronavirus (COVID-19) pandemic.
RELATED: More coronavirus coverage from WKYC
As reports of children testing positive for COVID-19 rise nationwide, a pediatrician in the region said during the briefing that hospitals in Ohio are seeing the lasting impacts of the virus on children in a way different.
Dr Michael Forbes is a pediatric intensive care specialist at Akron Children's Hospital. While Forbes says the hospital hasn't seen many cases of pediatric COVID, they have seen previously healthy children develop MIS-C, an inflammatory syndrome seen in children linked to COVID-19.
Forbes said the hospital has treated at least 44 children with confirmed cases of MIS-C. According to Forbes, many of the children who developed MIS-C came from families who had previously tested positive for the virus.
Also at the briefing, Vanderhoff issued an announcement from U.S. health officials recommending that all eligible Americans receive a COVID-19 booster 8 months after their final dose of the vaccine.
Today, US Health and Human Services reaffirmed that COVID-19 vaccines authorized in the United States continue to be remarkably effective in reducing the risk of serious illness, hospitalization and death, even against the widely delta variant. circulating, "Vanderhoff said.
Vanderhoff said the goal is to keep students learning in the classroom five days a week.
"Adopting multi-level prevention measures in schools now will help ensure that our students can learn as much in person as possible this year and keep our students participating in extracurricular activities," said Vanderhoff.
Forbes emphasized this point, saying the best way for families to protect their children as they return to school is to "prevent what is preventable."
"If you're 12 and over, you should be vaccinated," Forbes said.
Dr Vanderhoff's media briefing came a day after he and Ohio Governor Mike DeWine held a media briefing where they each expressed concern about the Delta variant of COVID-19 , which Vanderhoff says has become the dominant COVID-19 strain in the state.
As the fall season approaches, DeWine said the recent release of the Delta variant could threaten students' ability to return to class. And while Ohio lawmakers have passed and struck down a veto on Senate Bill 22, which gives the State General Assembly the ability to overrule any of the governor's or the health department, DeWine urged school districts across the state to implement their own mask mandates in an effort to help curb the spread of COVID-19.
"Our students cannot afford another disrupted school year. We need them in the classroom," Governor DeWine said. "The best way to protect them is to send them to school with masks on."
Ohio reported 3,235 new cases of COVID-19 on Tuesday, an increase of 1,421 from the previous day.
You can watch Wednesday's full briefing in the video player below.